Newsletter
April 2020
Time to Shine
While markets and economic data remain volatile as the coronavirus continues to spread beyond 3 million global cases and 1 million US cases, we are beginning to see signs that the worst of this wave of infection may be behind us in many areas. Approximately 30 states are beginning to re-open to some degree. Indeed, there are significant societal costs from such a prolonged shutdown that government leaders are trying to avoid while flattening the virus's curve. It is a difficult needle to thread.
As we look at markets in April, stocks ran well ahead of an economy that remains mostly halted. Second-quarter GDP growth is forecasted to finish as the worst on record – some predict -30% or so following a first-quarter contraction of 4.8%. That said, there is some optimism among investors, aided by massive stimulus provided by Congress and the Fed. Major indices have recovered a good portion of March losses in the last six weeks, but that recovery has been narrowly focused. A gap remains between growth versus value and small versus large companies, as shown in the charts below.

The virus' destruction of demand within economically sensitive, cyclical areas of the economy such as energy, materials, and industrials, has disproportionately hit value strategies this year.
Plus, interest rates plunging back toward 0% have hurt financials, which represent almost one-quarter of the Russell 1000 Value index. Large-cap technology, communications services, and some health care companies have continued to lead, which has favored growth investors.
Looking forward, we believe there is hope for a reasonably sharp economic recovery over a 1- to 2-year period. The recovery after the 1999-2000 recession following the crash of the tech complex may be a reasonable guidepost, meaning value investors can outperform as the economic engine Source for above charts: Goldman Sachs begins to rev again and demand returns. 
The graph below shows value stocks soundly beating growth stocks in the early phase of the recovery in the early 2000s. This continued until the next recession that culminated in the financial crisis. Economically sensitive sectors led the market higher off the bottom, as GDP growth sharply recovered after a very hard reset. This is how KLCM is positioning elements within our portfolio today. These sectors have been battered and trade at very discounted valuations relative to the market and their history. Following this coronavirus-induced shutdown, we anticipate a strong economic rebound late this year that hopefully gains steam in 2021-22, and well-capitalized financials and other cyclicals should participate, akin to the early 2000s.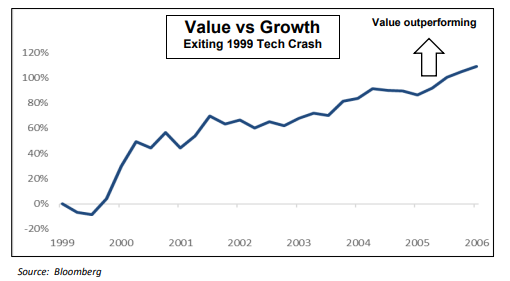 Additionally, anointed growth winners, including Microsoft, Apple, Amazon, Google, and Facebook, have become very crowded. These five mega-cap tech/consumer companies now represent more than 20% of the S&P 500 index, exceeding the 1999-2000 boom phase, when the top five companies comprised 18% of the index. To highlight why this could be problematic, Goldman Sachs recently noted, "Narrow rallies can lead to large drawdowns as the handful of market leaders ultimately fail to generate enough fundamental earnings strength to justify elevated valuations and investor crowding. In these cases, the market leaders 'catch down' to weaker peers. In other cases, an improving economic outlook and strengthening investor sentiment help laggards 'catch up' to the market leaders. In both cases, on a relative basis, the outperformance of market leaders eventually gives way to underperformance." While these top five are fantastic platform companies with big competitive moats, solid balance sheets, and cash flows, the concentration in a narrow group has led to momentum reversals previously.
We believe that as the lights of the economy begin to come back on and GDP improves from historic declines in the back half of 2020, that capital will move into cyclical and value names that have not fully participated in the snapback rally. We have seen very early signs of this value rotation as investors digest the rally and try to position for the next potential leg.
The top positions in our portfolio are trading at an average of 11-12x forward earnings estimates, a significant discount to the S&P 500 and even the Russell 1000 Value Index. Additionally, the aggregate dividend yield of the KLCM value equity portfolio is around 4%, which is about double that of the S&P 500 dividend yield. We believe that owning a larger cap, dividend payers are appropriate. We continue to look for opportunities to add high-quality, discounted valuation stocks to our portfolio.
This has been a severe financial and economic downturn, unlike any seen before, followed by a very fast interim recovery for stocks. As coronavirus testing continues to ramp, states start to ease lockdown restrictions, and the economy begins to reawaken from its government-mandated coma later this year, we think the time for valueoriented strategies like ours to win is near.
The Great Unwind
January 2019
Ten years ago, the capital markets were frozen, and global economies were in free fall. With liquidity at a premium, all asset classes other than US Treasuries were caught in a deepening bear market. The only tool available to staunch the bleeding…