Newsletter
October 2022
There is a Silver Lining
As of this writing, equity index levels are down slightly after crossing the negative 20% threshold of a bear market in late June.  This truth obfuscates the reality of the last three months - a broad 18% rally from the June lows and a subsequent 16% decline to a new cycle low.  The best analogy might very well be the duck sitting in the water.  Calm and cool above the surface but paddling like mad to stay still.  Most individual stocks, as well as bonds, commodities, and foreign exchange markets, have experienced a considerable amount of volatility and now reflect a less certain environment than existed three months ago.
The litany of woes continues to include inflation, Russia's war with Ukraine, rising interest rates, and slowing global growth.  The only significant offsets to these issues are strong domestic employment and increasing wages.  This has led to a resilient consumer, which is currently frustrating the Fed's ability to curb inflation.  The current bear market is already nine months long, and the prospects for an imminent  bullish turn appear limited as inflation has yet to show signs of moderating, and the Fed remains intent on further raising interest rates to crush inflation.  We remain optimistic over the intermediate and long term but have positioned equity and fixed income portfolios over the past several years to weather this storm.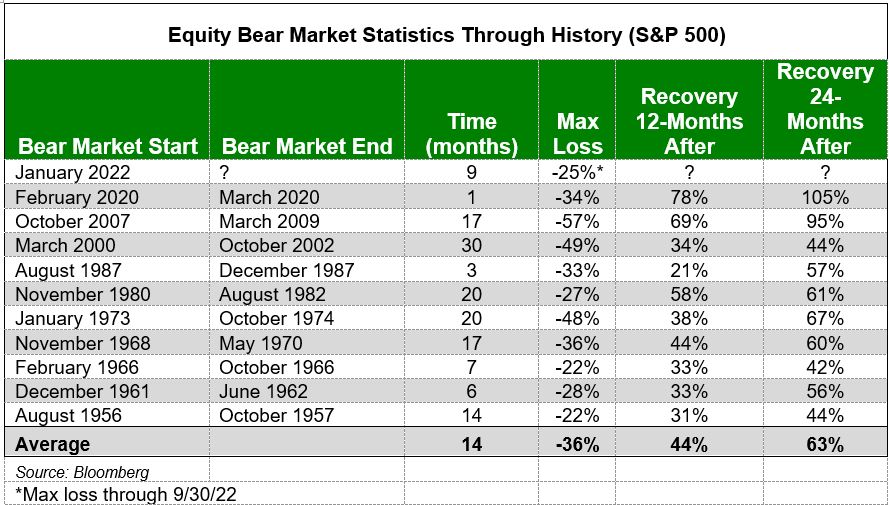 To date, the declines have primarily been driven by valuation compression.  However, we are now starting to see falling earnings estimates.  The combination of significantly higher global interest rates, rising wages, continued supply chain disruptions, slowing global demand, and a rapidly increasing US dollar together are conspiring to create a meaningful headwind for businesses generally and in particular for businesses with significant foreign operations.  We believe that the third quarter earnings season may serve as the opportunity for companies to reset expectations for the coming quarters. 
Many investors were relying on a belief that interest rates were never going to move meaningfully higher. As a result, they could pay nearly any price for a growing asset.  At the index level this led to persistently rich valuations – well in excess of 20 times earnings for the S&P 500 – for nearly a decade.  We noted last quarter that "this premium which we have viewed with more than a little skepticism has started to vanish quickly." That process has continued, and currently, the market trades around 16.5 times 2022 earnings and closer to 15 times 2023 earnings expectations.  Given the current headwinds, assuming that earnings will grow nearly 10% next year seems like a best-case scenario.  If the market were to conclude that a mild recession was probable, it is likely that estimates for 2023 earnings would decline 10-15% from current levels. 
Sir John Templeton has been famously quoted as saying, "Bull markets are born on pessimism, grow on skepticism, mature on optimism, and die on euphoria." The last bull market has clearly died.  However, the seeds of the next bull market are being sewn now, and the fertilizer of pessimism is growing by the day.  While the list of global known unknowns is presently quite extensive, we believe the last adjustment necessary is a reduction in future earnings growth expectations.  This oftentimes can be a long, drawn-out process when it isn't accompanied by an external shock such as COVID.   While this could result in a further downside in the short term, it is our belief that the worst of the declines for equity indices are now behind us.  While stocks as an asset class are being indiscriminately sold, compelling long-term opportunities are being presented to investors willing to do the work on individual securities.
The good news is that by virtue of the poor performance year to date for all asset classes, markets are already discounting a considerable amount of bad news.  The worst market, when compared to itself over time, has been the US bond market.  Since 1977 the Bloomberg Aggregate Bond Index has only registered a negative return 5 times; the worst return was -2.9% in 1994.  Year to date, this index is down 15%!  Depending on which data set one uses, this is either the worst year for bonds since the great depression or in recorded history!!  Interest rates having been held near zero globally for more than a decade resulted in a low coupon and long duration bond market.  With a Federal Reserve intent on raising rates quickly, a rapid repricing of the entire market ensued.  The rapidity of the move in interest rates is causing a lot of distress in other asset classes with many investors contemplating alternatives that did not exist for their investment dollars just months ago.  That is the silver lining in the current environment.  There are now alternatives for many of our clients to generate meaningfully higher levels of income in their portfolios.
For the past several years, we have been keeping the duration of our bond portfolios relatively short.  Rates have increased substantially, with the Federal Reserve raising the fed funds rate from 0-.25% at the beginning of the year to a current range of 3.0-3.25%.  The market currently anticipates the Federal Reserve raising rates further over the coming months.  The high-quality fixed income market, which was a veritable desert of "income" over the past several years is now providing a panacea of choices.  As a result, we are beginning to extend the duration of our fixed income portfolios as the opportunity to lock in meaningful yields for several years using high-quality corporate bonds is too appealing to pass up.  We welcome the opportunity that the current turmoil is providing for our clients to increase the income generation of their portfolios for the foreseeable future.
As always, if you have any questions or want to catch up, please give us a call.   
The 'Stories' of the Bear Market July 2022
July 2022
Less than two years after the end of the shortest and sharpest bear market in our lifetime, we have re-entered another downturn.  There is a litany of plausible explanations for this one, including inflation, Russia's war with Ukraine, rising…
Stick to the Script
April 2022
Looking back at the first quarter of 2022, it seems as though several years, not months, have passed.  We entered the year with a strong economic backdrop, including growing wages for the rank and file.  The only major issue investors were grappling…
Inflation -- The Dog Caught the Car!
January 2022
Inflation is best described as a general increase in prices and a fall in the purchasing value of money.  From 1965 to 1980, inflation increased from 1% to 14% per annum, driven by a combination of expansive fiscal policy and an accommodative…